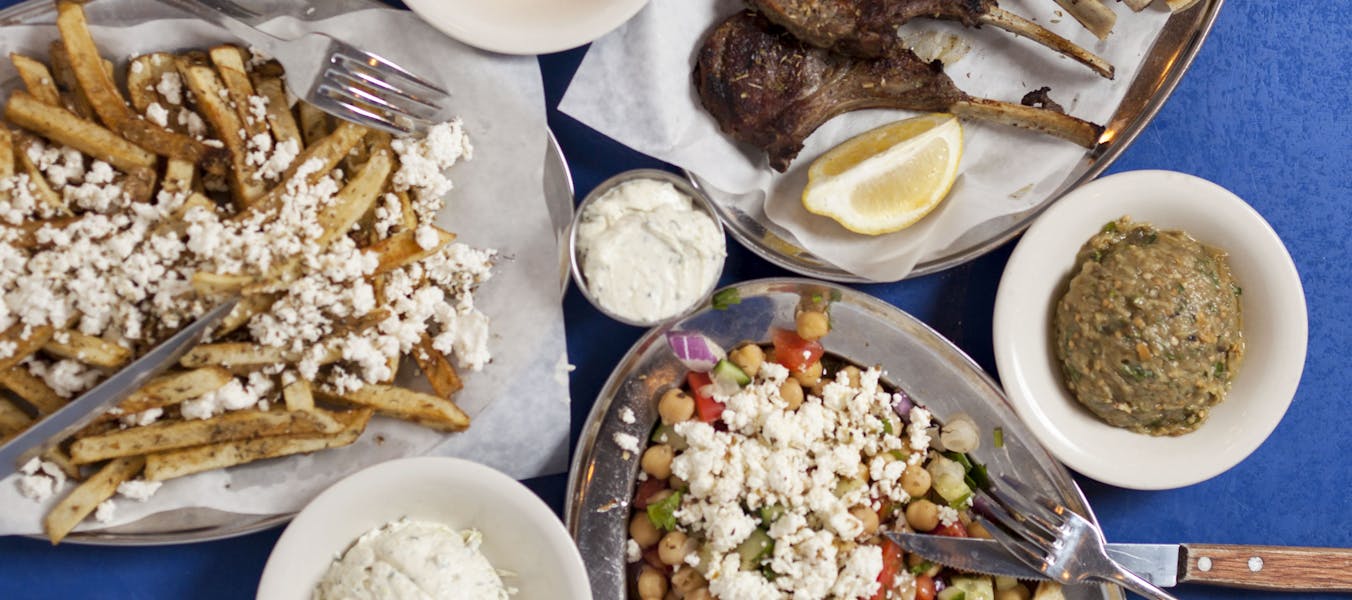 Brunch Menu Sunday 11:00am-16:00pm
Greek Cravings
Greek Yogurt Parfait
Greek yogurt bowl with seasonal berries & house made granola 12
Buttermilk Pancakes
Fresh berries compote & maple syrup 14
Avgofetes
French toast with fresh berries, banana & Ouzo infused apple syrup 14
Crab & Salmon
Smokes Salmon Benedict
Pita bread, dill & hollandaise sauce 18
Smoked Salmon Platter
Pita bread, tomato, dill cream cheese, onions &cappers 15
Crab Cake Benedict
Spinach, old bay & hollandaise sauce 20
Avga & Omeletes (Eggs & Omelets)
Breakfast Souvlaki Pita
Eggs, loukaniko & feta chesse 11
Avga Me Patates
Two eggs any style with Greek fries 11
Souvlaki GR Omelette
Loukaniko, pappers, hand cut fries, tomato, onion & feta cheese 14
Midtown Omelette
Smoked Salmon, spinach, cherry tomatoes & cream cheese 16
Brunch Coctails
Botomless Blink Champain
(up to 4 ppl) 45
Mykonos Bellini
12


Bloody Mary
12 Home made Bloody Mary Mix
Aegean Sunrise
13 Ouzo Polmari, Cocchi Americano Aperitif Wine , house made strawberry jelly, fresh lemon juice & Ouzo soda
Under the Bubbles
13 Absinthe DOC, St. Germain elder flower liqueur, Aperol, honey syrup, fresh lemon juice, Blink Greek sparkling wine
MEZEDES
Tzatziki Patzari
(Red Beet) 7.5
Melitzanosalata
(Egplant) 7.5
Tyrokafteri
(Spicy Feta) 7.5
Taramosalata
(Salmon Roe) 7.5
Fava
(Split Pea) 7.5
Hummus
(Chick Pea) 7.5
Skordalia
(Garlic) 7.5
Tzatziki
(Yogurt-Cucumber) 7.5
Any Three Spreads
20
Extra Pita
2
Extra Small Dip
3
OREKTIKA
Avgolemono Soup/Soup of the Day
9
Egg and lemon based chicken soup with carrot and celery
Halloumi
14 Pan fried Halloumi cheese with extra virgin olive oil and oregano
Dakos
13
Barley rusk topped with chopped tomatoes, red onion, kalamata olives, feta cheese, olive oil & balsamic vinegar
Kolokithokeftedes
(Zucchini Croquettes) 12.5
Shredded zucchini, carrots, scallion and mint
Keftedes
(Greek Meatballs) 12.5
Beef, onion, garlic & parsley
Spanakopita
(Spinach Pie) 12
Spinach pie with spinach, feta, ricotta, dill and scallion
Feta Fournou
(Baked Feta) 12
Baked feta with peppers, tomatoes and extra virgin olive oil
Tyrocroquettes
(Cheese Saganki) 13
Cheese Saganaki with kasseri, kefalograviera and feta cheese
Tyropita
(Cheese Pie) 11.5
Cheese pie with feta, ricotta, mint, dill and scallion
Greek Sliders
12
Beef, tomato, red onion & your own choice of tzatziki or specy feta
Octapodo Ksidato
18
Souvlaki GR signature charcoal grilled octopus
SALATES
Horiatiki
(Greek Salad) 13.75
Tomato, cucumber, red onions, feta & kalamata olives
Prassini
(Green Salad) 13
Greens, scallions, dill & crumbled feta
Revithosalata
(Chickpea Salad) 13
Chopped tomato, cucumber, red onions, red peppers, & crumbled feta
Kavourosalata
18
Real crabmeat, romaine lettuce scallion , dill & feta drizzled with kalamata extra virgin oil & fresh squeezed lemon juise
SGR Steak Salad
22
Skirt Steak, mixed greens, grilled vegetables and feta cheese
KALAMAKIA
Individual Skewers
4.5 each
Chicken or Pork Skewers with Tzatziki & Pita
Kalamaki Veggie
4.5 each
Eggplant, zucchini, colored peppers
Kalamaki Bifteki
5.50 each
100% beef skewer
Kalamaki Garida
8 each
3 Shrimp per skewer
Kalamaki Arni (Lamb)
8.5
Kalamaki Bifteki Kotopoulo (Ground Chicken Meat)
5.5
Kalamakia Paketo
22
Your choice of six Chicken or Pork with Tzatziki & Pita
PATATES
Hand-Cut Fries
8
Hand-Cut Greek Fries
9
Sprinkled with feta cheese and seasoned with Greek oregano
SGR Fries
11 Homemade tomato sauce & graviera or feta cheese
Side dipping sauce of your choice
3
SOUVLAKI PITA TYLIKTO (tzatziki)
Souvlaki Pita
(Chicken or Pork) 6.75
Tomato, red onions, fries and tzatziki
Bifteki Pita
7.75
Traditional Greek burger wrapped in pita, tomato, red onion, feta and tyrokafteri
Loukaniko Pita
7.75
Traditional Greek sausage wrapped in pita, tomato, red onion, feta and tzatziki
Shrimp Pita
8.75
Tomato, red onions, fries and tzatziki
Veggie Pita
Cold 6.5
Tomato, cucumber, red onions, fries, kalamata olives and tzatziki
Veggie Pita
Hot 7.25
Tomato, eggplant, zucchini, onion, colored peppers, fries and tzatziki
Arni Pita (Lamb)
8.5 Tomato, red onions, fries and tzatziki


SGR SOUVLAKI PITA TYLIKTO (spicy feta)


SGR Souvlaki Pita
(Chicken or Pork) 7.75
Tomato, red onions, fries and tyrokafteri- spicy feta
SGR Bifteki Pita
8.75
Traditional Greek burger wrapped in pita, tomato, red onion, feta and Tyrokafteri
SGR Loukaniko Pita
8.75
Traditional Greek sausage wrapped in pita, tomato, red onion, feta and Tyrokafteri
SGR Shrimp Pita
9.75
Tomato, red onions, fries and Tyrokafteri
Specials


Moussakas
19
Traditional Greek casserole with béchamel sauce, ground beef, eggplant & potatoes
Veggie Moussakas
18 Traditional Greek with béchamel sauce , zucchini, eggplant & potatoes
Pastitsio
18
Traditional baked pasta with ground beef & béchamel sauce
Garides Saganaki
18
Sautéed shrimp cooked with feta cheese, red tomato sauce & ouzo
SPECIALS PITA & SKEWER
Salmon Souvlaki pita
10.50
Fresh ground salmon wrapped pita bread with tomato, fries and avocado tzatziki sauce
Kalamaki Solomou
(Salmon skewer) 9.50
Fresh ground salmon skewer mixed with dill and capers accompanied by pita and avocado tzatziki sauce
Daily Specials
Please ask for additional Daily Specials
PSITA TIS ORAS
Loukaniko
13
Homemade traditional Greek pork sausage, orange peel or leek
Bifteki Gemisto
21
Two handmade Greek burgers, stuffed with Greek cheeses, scallion and dill
Bifteki Kotopoulo
16
Two handmade chicken burgers with chopped spinach, red peppers, fresh herbs and tomato.
Arni Bifteki
17
Lamb burger with feta cheese, grilled tomato & tzatziki


Lamb Chops*
Served with pita and tzatziki Charcoal grilled and marinated with Greek salt and extra virgin olive oil
Quarto kilo (4-6 pieces) 22
Half kilo (8-10 pieces) 33
Kilo (16-18 pieces) 59
Psita tis Oras Poikilia
38
Mixed Grilled Meat Platter (for two people) Combination of lambchops, traditional Greek sausage, chicken, pork, and beef skewers, accompanied by pita and tzatziki
Brizola (Steak)
29
Charcoal grilled Ribeye marinated with Greek salt and Kalamata Extra Virgin olive oil
Pipperies Gemistes
15
Two grilled horn peppers, stuffed with Greek cheeses, scallion and dill
Psita Lachanika
(Mixed Grilled Vegetable) 17
Zucchini, eggplant, colored peppers, olive oil, balsamic vinegar
GLYKA (Dessert)
Loukoumades
9 Fried dough drizzled with honey, walnuts and cinnamon
Yaourti Sakoulas
9 Strained yogurt, shaved walnuts and honey
Baklavas
11 Layered pastry filled with crunchy walnuts and honey syrup
Lefko
White by the Glass


Retsina
(Traditional Greek Wine) 9
Anosis
10
Dougos Savignon Blanc
11
White by the Bottle


Assyrtiko Porto Caras 2016
42
Straw blonde color, delicate citrus aromas, honeyed fruits, roasted nuts and lemon-curd. Typically crisp on the palate with zesty acidity.
Iron S Acheon 2016
42
Sideritis, good acidity a refreshing predominant lemon flavor and a complexity of fruity aromas.

Dougos White 2016
41
Sauvignon Blanc. Complex nose of melon, honey and orange peel. Aromas of apple, pear and melon accompanied by an impressive acidity.
Idisma Drios Chardonnay 2016
48
Distinctively fragrant aroma of tropical fruits, underlying hints of vanilla and honey. Rich, full bodied beautifully balanced with pleasant freshness.

Meth'imon Acacia 2016
44
Sauvignon Blanc, Assyrtiko. Great aromatic purity, fermented and matured in large Acacia barrels.






Naked Queen 2016
59
Chardonnay, Assyrtiko. Fermented in Acacia barrels to create a full bodied white wine with character and depth. Finesse and complexity.




Plano Wine Art 2017
44
Malagouzia. Characterized by the intensity of its aromas. Color is yellow pale with greenish reflections. Explosive aromas of citrus fruits, white flowers and bergamot orange.
Wishes White Eratines 2016
46 Melted butter, citrus and roasted oranges, before revealing exotic fruits. Crunchy, youthful, slightly spicy and full body taste.

Kokkino
Red By The Glass
Dougos
(House Red) 9
Agioritiko Nemea
9
Rapsani Old Vines
12
Red by the Bottle
Dougos 2015
40
Varieties Cabernet Sauvignon 50% , Xinomavro 35%, Krasato 15%. Deep scarlet color combine the thick aromas of dried fruits and herbs.
Agiorgitiko Nemea 2016
40
Variety Agiorgitiko (100%) Unfiltered. Gentle tannins, rich body and balance between acidity, barrel and fruit.
Wishes Eratines 2015
47
Varieties of Xinomavro (40%), Syrah (30%), Cabernet Sauvignon (30%) Spicy and full bodied.Aged 18 months in French Oak Barrels.
Naked King 2015
95
Varieties of Syrah 85%, Kolindrino 15%. Exuberant black fruit of black cherries & blueberries with a touch of vanilla and licorice, supported by ripe & velvety tannins.
Rapsani Old Vines 2012
70
Organic grapes. Varieties of Xinomavro 34%, Krasato 33%, Stavroto 33%. Harvested from 50 years old vines. Complex aromas of tomato and red fruits, sweet spices and herbs with a lasting after taste.
Chateau Porto Carras 2017
52 Varieties Cabernet Sauvignon (50%) Cabernet Franc(30%) and Limino(20%) Complex aromas dominated by black berry fruits and cedar. Delicate, smokey with fruit structure and balance. Excellent quality, rich and long velvet finish.
Cuvee Lantides 2014
75 Rich deep ruby color. Complex aromas dominated by black berry fruits and cedar.
Mavrotragano Dougos 2015
135 Solid red color, black fruits, violet, licorice and spices. Cherry plum and a long after taste.
Meth'imon Opsimo 2010
125
Organic grapes. Varieties of Cabernet Sauvignon, Syrah, Grenache, Limning, Merlot Aromas of black fruits, pepper, tobacco, oregano. Aged 24 months in Oak barrels. .
Rose
Pink Bank 2016
42
Lychee skin pale pink color with purple hues.Complex and particularly delicate nose with floral and red fruit aromas. Refreshing mouth dominated by a fruity and spicy aftertaste.
Petaloudes 2015
38
Variety of Syrah, sun exposed red grapes, light pressed releases the finest and richest elements.
Dessert Wine
Wishes Eratines Sweet
12/45
Amber rose aromas of apricot , roasted orange creation bese and old Byzantine wine , making wisdom.
Cocktails
Windmill
13
Vodka, Honey, Basil and Apple Juice
Mojito
13
Regular
Mastiha
Ginger
Lychee Martini
13
Vodka, Lychee Liqueur and Pineapple
Honey Jack Lemonade
13
Honey Jack Daniels, Triple Sec, Lemon, Orange, and Cane Sugar
Agrari Julep
13
Bourbon Infused Fig, Spring Mint and Fresh Lime Juice
Paradise
13
Skinos Mastiha Spirit, Gin, Cucumber, Parsley, and Lime Juice
Santorini Mule
13
Vodka, Ginger Beer, Lime, and Cane Sugar
Aegean Sunrise
13
Regular or Spicy - Tequila, Agave, Lime, Orange and Lemon
Peter The Pelican
13
Fresh Ginger, Champagne, Cointreau and Honey
Psarou Punch Bowl
89
Tsipouro, Pomegranate Liqueur, Skinos Mastiha Spirit, Champagne, Grapefruit, Lemon, Lime and Sage
Under The Bubbles
13
Absinthe DOC, St. Germain Elderflower Liqueur, Aperol, Honey Syrup, Fresh Lemon Juice and Blink Greek Sparkling Wine
Apple Martini
13
Vodka, Apple Pucker and Lime Juice
Caipirinha
13
Cachaca, Lime and Sugar
Sampagnia
Blink White

Variety Muscat of Alexandria (Zibibbo) 100% intense and lengthy bubbly experience. Soft aromas of almond flowers, pear, apricot, lemon, jasmine, and rose as well as citrus notes. Flowery palate and caramel after taste
Blink Glass
(187 mL) (by the glass) 13
Blink
(Organic) (by the bottle) 42
Moet & Chandon
(by the bottle) 125
Dom Perignon
(by the bottle) 450
Birra
Mythos Lager
8
Fix Lager
8
Helas Pilsner
8
Red Donkey
9
Yellow Donkey
9
Crazy Donkey
9


Greek Liquors
Mastiha, Ouzo, Tsipouro
11 (Glass)
Rakomelo
Raki, Honet(Thyme), Cinnamon and Rose 25 (250ml) - 40(500ml)
SODA
Coke, Diet Coke, Sprite, Ginger Ale
3.5
Epsa Lemon/Orange
4
Ouzon Soda
4
Carbonated, non-alcoholic beverage with Ouzo flavor
NERO
Still Vikos
(Bottled Water) 7
750ml
Sparkling Souroti
4 / 7
250ml
500ml
KAFE
Nescafe Frappe
(Iced) 4
Nescafe
(Hot) 3.50
Elliniko
(Traditional Greek coffee) 3.50
American coffee

3.50
Tsai
(Hot or Iced) 3.5
Greek mountain tea
TuVunu Iced Mountain Tea
5
500mL Can